2017, № 1 ... (.pdf, 1,4 MB)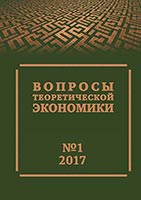 CONTENTS
ECONOMIC THEORY
M. Voeykov To the problems of socio-economic inequality: social and economic
METHODOLOGY OF ECONOMIC SCIENCE
A. Nekipelov «New pragmatism» of professor G. Kolodko: alternative or addition to pure economic theory?
FROM THEORY TO ECONOMIC POLICY
E. Gurvich Junctions of the Russia's macroeconomic policy
V. Polterovich Designing the strategies for socio-economic development: science vs. ideology
HISTORY OF THOUGHT
M. Pokidchenko Is there an economic cycle?
INTERDISCIPLINARY STUDIES
P. Orekhovsky The concepts of «university» in the various discourses and the Russian reform of education
A. Rubinshtein Can performing arts be profitable?
ECONOMIC HISTORY
M. Davydov Modernization of Vitte–Stolypin and its specificity
SURVEYS & REVIEWS
A. Kolganov What gives a psychology for understanding economic processes? (on the book of U.Ya. Olsevich «Psychological foundations economic behavior»)